When IRC 501(c)(19) was enacted on August 29, 1972, it was evidence of Congress's intent to provide special tax treatment for war veterans' organizations. Prior to 1972, VSOs were either a 501(c)(3)

or 501(c)(4).

These permitted veterans' organizations to be exempt from tax, with contributions to them to be tax deductible, and allowed the ability to engage in both lobbying activities and political activities. It is fair to say that veterans' organizations are unique in the tax-exempt sector.
Over the past year, VFW Post 7916 in Occoquan, Virginia, has spearheaded our efforts in the change this law to recognize Veteran Service Organizations and their work in supporting this nation's veterans. Last year the town of Occoquan notified Post 7916 Quartermaster Jim Adams, Col USA (Ret) of the intent to impose a tax on the Post, which had been located in Occoquan for over 55 years. Adams researched the various laws and found the inconsistency that had wide ranging affects. He informed Post 7916 Commander Chuck Wilson, Colonel USAF (Ret), who took the issue and briefed the District 10 Convention, the Virginia Department Convention, and the Potomac Region Veterans Council. Upon hearing the issue presented, Dan Boyer, our Joint Leadership Council Representative (JLC) and former State Commander, convinced the JLC to make it a priority for this year's legislative session. (Wilson was later elected as Commander, District 10, 2017-18)
At the VFW's 2016 Day on the Hill on January 14, teams of VFW and Auxiliary members canvased both houses of the Legislature. We strongly stressed the importance of this issue and the consequences should it continue to be overlooked in Virginia. Our efforts resulted in the three Bills as described below.
Virginia House Bill 63, sponsored by Delegate Scott Ligamfelter, provides a sales and use tax exemption for entities exempt from federal income taxation under § 501(c)(19) of the Internal Revenue Code, an exemption for veterans organizations that meet certain requirements. This brings the Virginia Code in line with the Federal Code. There were also two companion Virginia Bills, HB 21 sponsored by Virginia Delegate Farrell, and SB 533 sponsored by Senator Surovell. Delegate Rich Anderson was also a staunch supporter.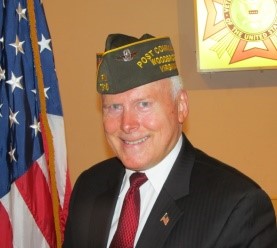 Continuing our efforts, on February 23, 2016, Chuck Wilson (also past District 10 Commander) addressed the Virginia Senate emphasizing the importance of this change and the positive affects it would have on the VSOs across the Commonwealth. Wilson's address had a positive impact! Also in attendance were Department Senior Vice Commander Tom Gimble, Department Junior Vice Mike Bohme, and Post 7916 Life Member Turk Maggi.
As of March 1, HB 63 passed the Virginia House 96-1-signed by the speaker, passed the Senate 39-0 and was signed by the President of the Senate. The Bill was signed by Governor McAuliffe March 25.